Tools - Pizza & Pasta Tools
Atlas Pasta Machine
Harold Import Company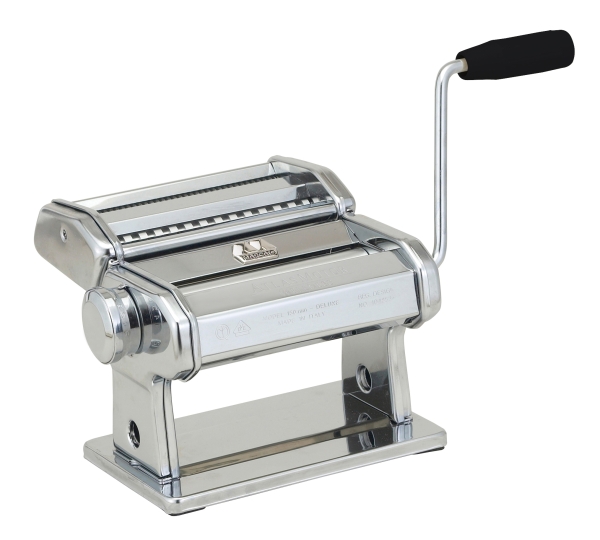 The Atlas 150 is absolutely the most versatile manual pasta machine available on the market today and also the most widely sold. All Marcato products are manufactured using only the finest materials available and are subject to continuous quality control. This is a machine you'll pass down - very heavy, very sturdy, beautifully made. A complete system of attachments applicable to the body of the machine allows for obtaining more than 15 types of different pastas from spaghetti to ravioli, from lasagne to angel hair. Extended line of attachments sold separately.
This standard set includes narrow and wide cutters, crank, clamp, basic recipes and instruction booklet.
The body is made entirely of nickel-plated and chrome-plated steel for long-term resistance to corrosion.
The rollers are of special nickel-plated steel with double-slotted opening for insertion of the handle and motor unit.
All of the gears are in case-hardened and tempered steel for extra-long life.
The opening between the flat rollers is controlled by a numbered regulating knob with 9 positions (from 2.5-mm to 0.3-mm).
The handle and clamp are included in the packaging and have hand-grips made of ABS suitable for food use.
The standard cutters are in the following sizes: 1/16-in. for spaghetti and 1/4-in. for fettuccine. Made in Italy with a 3-year warranty.
Our Price:
$
99.95