Cutlery - Paring Knives
Steelport 4" Paring
Steelport Knife Co.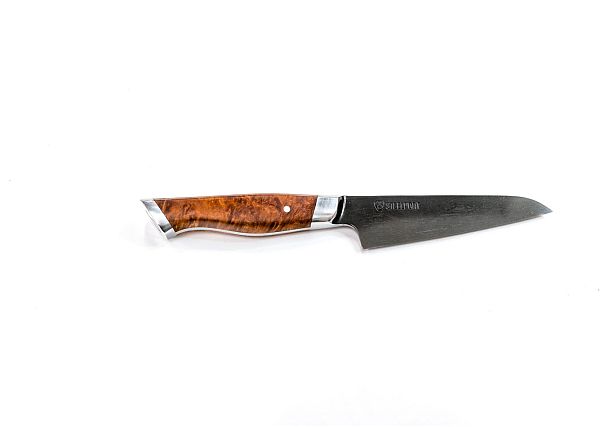 The STEELPORT 4" Paring Knife is designed for a high level of maneuverability and application. A paring knife is an essential tool and the second most frequently used knife in the kitchen after a chef knife. The smallest knife in the STEELPORT lineup, our team designed the 4" Paring Knife to perfectly complement the STEELPORT 8" and 6" Chef Knife, using the same materials, handcrafted methods and rigorous attention to detail. It's a perfect choice for any "minimalist" who enjoys a tool that can multitask. Its unique shape and size allow the 4" Paring Knife to perform many functions of a petty or utility knife as well, from preparing smaller produce like shallots and garlic, to light precision butchering tasks such as processing small game birds and trimming fat.
BLADE SHAPE:
The sheepsfoot tip allows the blade to have a flatter profile which means it can make more contact with the board. It is intentionally taller and larger than an average paring knife, allowing for precision without being too delicate, and the contoured handle provides a comfortable close grip for finer control and finesse. The longer-than-average 4" length allows for use on a cutting board and finer kitchen tasks as well as use holding in-hand for peeling and coring.
BLADE MATERIAL/HEAT TREAT:
STEELPORT knives have solid one-piece traditional drop forged construction from blade tip to end cap with an integral bolster for a well-balanced and long-lasting knife. Through STEELPORT's proprietary differential heat treatment, American 52100 Carbon Steel achieves an unmatched 65HRC hardness at the blade for exceptional long-lasting sharpness, while maintaining a softer 30HRC spine for lifelong durability. The bolster and spine are hand-polished smooth for a supremely comfortable pinch grip hold.
HANDLE:
The more generous overall size, contoured handle, and rounded spine of the STEELPORT 4" Paring Knife allows for more comfort and versatility than a typical paring knife. For all STEELPORT handles, we use Oregon Big Leaf Maple Burl, a locally sourced, naturally unique burl wood, stabilized with resin to meet tough kitchen requirements and won't shrink or swell.
Our Price:
$
250.00