Bakeware - Bread & Loaf Pans
Loaf Pan Pullman W/Cover 13"x4"x4"
USA Pan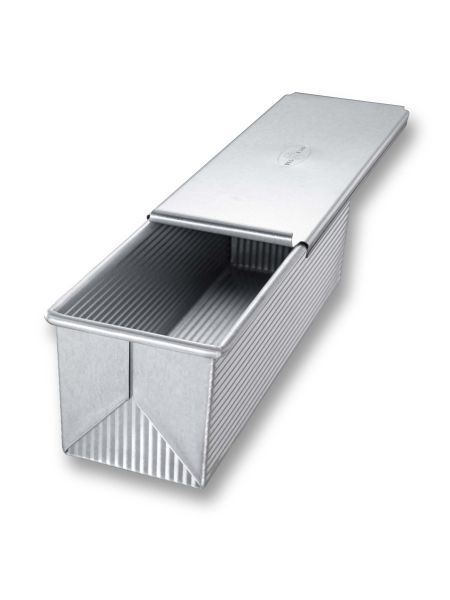 Our Large Pullman Pan & Cover is a unique piece from our bakeware collection that's a must-have for bakers looking to make their own sandwich bread at home. Use the lid for perfectly squared loaves or without the lid for standard rounded loaves. Our pans are coated with Americoat®, a superior nonstick silicone that allows your baked goods to release easily and makes clean up a breeze. USA PAN®'s professional grade bakeware helps everyday home bakers produce professional grade baked goods. USA PAN® is a Bundy Family owned company, based in the Greater Pittsburgh, Pennsylvania area.
What makes it Special?
What makes it Special
Unique, ridged texture, facilitates even air circulation and heat distribution
Made with the same standard high-performance features used for bakeware in commercial bakeries
Easy clean up with our nonstick silicone coating: FDA approved for safe contact with food
Limited Lifetime Warranty for the life of your use
Pan made in USA from globally sourced materials
To remove lid: After pan has cooled enough to handle, hold pan so that the cover's edge that curls up is facing you. With the palm of your other hand, tap the curled edge so that the cover slides away from you.
To close lid: slide the cover over the top edge of the pan starting with the edge that curls up. Make sure that the cover is pushed all the way on so that the small indentation on the cover locks into place. This will prevent the cover from moving while baking.
Our Price:
$
38.99