Cookware - Dutch Ovens
Oval Dutch Oven 6.75qt. Enameled Cast Iron, Flame
Le Creuset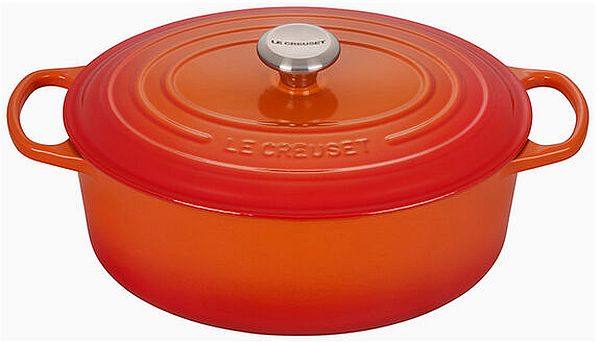 The iconic Le Creuset Dutch oven is indispensable in the kitchens of home cooks and professional chefs alike. Long recognized for its strength and durability, cast iron is the prime material for slow cooking, braising and roasting, thanks to its ability to maintain even and consistent heat. The enameled Dutch oven needs no seasoning, and it's suitable for both stovetop and oven use. The oval shape is particularly suited to longer cuts of meat or poultry.
Features:
Colorful, long-lasting exterior enamel resists chipping and cracking; interior enamel is engineered to resist staining and dulling.
Sand-colored interior enamel makes it easy to monitor food as it cooks, preventing burning and sticking.
Oversized handles provide even weight distribution and a secure grip.
Ergonomic composite knobs are heat resistant to 500F.
Built-in lid stabilizers provide a secure, no-slide fit.
The lightest weight per quart of any premium cast iron cookware available.
Our Price:
$
445.00
This product is currently out of stock. Please call the store for details.