Cookware - Cookware Sets
Thomas Keller Insignia™ 11 Piece Cookware Set
Hestan Meyer Corporation/CIT Group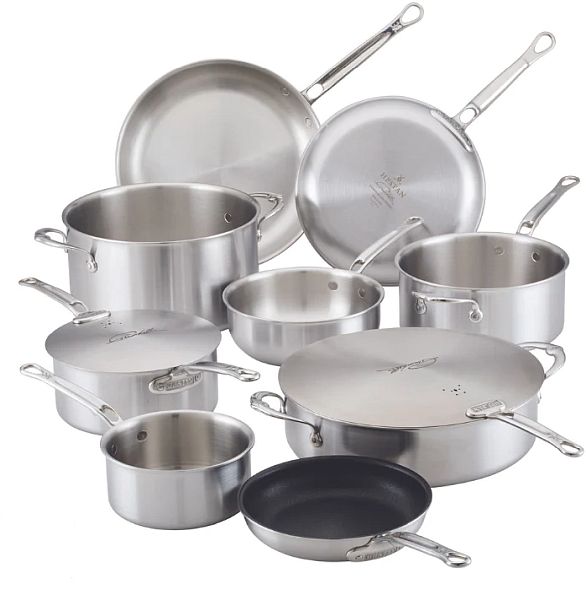 Chef-designed and kitchen-proven with sustainability at the core, Thomas Keller's tri-ply clad Insignia Stainless Steel Cookware Set raises the bar for professional culinary performance with purpose-built cookware focused on exceptional results while remaining eco-friendly. Designed by Chef Keller, the Insignia collection boasts bespoke handles to rest comfortably in your hand, significantly reduce heat transfer with the thoughtfully placed heat vent and are seamlessly fastened to the pots and pans to eliminate one of the hardest to clean crevices. The triple-bonded 18/10 stainless-steel construction featuring Hestan's exclusive ProCore™ aluminum delivers 35% greater heat conductivity. That means faster, more consistent heating, plus faster recovery time to stay in control of temperature and timing. In addition, you'll find that the sauté pans, sauce pots, rondeau, saucier, and stockpot are wider, not taller, to increase cooking surface for better heating, browning, and enhanced flavor. The set also contains an 8.5-inch sauté pan that is finished with TITUM™ nonstick, multi-layer system - the world's most durable nonstick. Completing this assortment of pots and pans, are two universal lids with Insignia steam vents to reduce boil overs, pressure, and eliminate rattling. Durable, innovative sealed rims make this thoughtfully crafted cookware set 100% dishwasher safe, while purposeful engineering accommodates a wide range of culinary needs including oven and broil safe to 600°F.
The Hestan Advantage
BESPOKE HANDLE DESIGN - Ergonomically crafted handle boasts a seamless-fit handle that eliminates food build-up for easy cleaning, while the heat vent is designed to reduce heat transfer by up to 20%
OPTIMAL CRAFTSMANSHIP - Italian crafted butter warmer is made from tri-ply clad stainless steel with ProCore™ aluminum core for optimum culinary performance
ECO-CONSCIOUS - Sustainability is at the core of Insignia and features packaging made from recycled materials for an all-around environmentally conscious cookware collection
DURABLE, INNOVATIVE RIMS - Stainless steel butter warmer features sealed rims to reduce wear and tear while ensuring 100% dishwasher safe capability and flared for drip free pouring of butter, chocolate sauces, and reductions
CHEF-INSPIRED RIVETS - Designed for the culinary creative, this small pot features flush rivets, making it easy to clean by preventing food build-up, while being ideal for stacking and nesting
CONVENIENCE WITHIN REACH - Italian made stainless butter warmer is dishwasher safe for easy cleaning, broiler and oven safe 600°F to accommodate a wide range of recipes
USE AND CARE - Metal utensil safe, oven and broiler safe; heat tolerant up to 600°F, dishwasher safe, suitable for all cooktops, including induction
LIFETIME WARRANTY - Hestan Thomas Keller Insignia cookware set is backed by a lifetime warranty
Details You'll Love
Oven safe to 600°F
Superior pan geometry
Ergonomic seamless-fit handle
Sustainable products and packaging
Induction capable
Handcrafted in Italy
Set Includes
1.5qt.,3qt.,4qt. Sauce Pot
8qt. Stock Pot
2qt Saucier
6qt Rondeau
11",12.5" Sauté Pans
8.5", 12.5" Universal Lids
8.5" Sauté Pan with TITUM™ Nonstick
Our Price:
$
1299.95
This product is currently out of stock. Please call the store for details.