Bakeware - Cookie & Baking Sheets
Sheet Pan Cookie Tray 10"X14"
USA Pan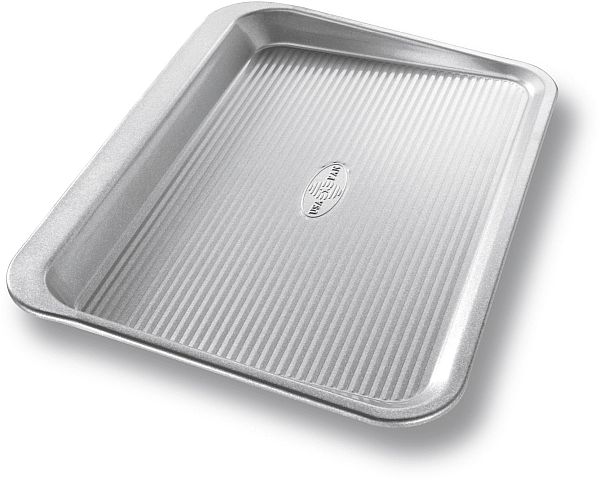 Our Small Cookie Tray Pan provides home bakers with an easy way to bake delicious homemade cookies that brown evenly, release quickly and come out tasting great. With an innovative scoop design that is smart and baker friendly, taking freshly baked cookies out of the oven has never been easier. With a secure, easy gripping handle and a tapered edge, simply slide finished cookies onto a kitchen counter or cooling rack. Our pans are coated with Americoat®, a superior nonstick silicone that allows your baked goods to release easily and makes clean up a breeze.
What makes it Special?
Unique, ridged texture, facilitates even air circulation and heat distribution
Made with the same standard high-performance features used for bakeware in commercial bakeries
Easy clean up with our nonstick silicone coating: FDA approved for safe contact with food
Limited Lifetime Warranty for the life of your use
Made in USA from globally sourced materials
Baking Surface Dimensions: 12.5 x 7.75 inches
Outer Dimensions: 14 x 10 x 1 inches
Material: Aluminized Steel
Our Price:
$
19.99