Bakeware - Baking Dishes
Heritage 4qt. Rectangular Covered Casserole, White
Le Creuset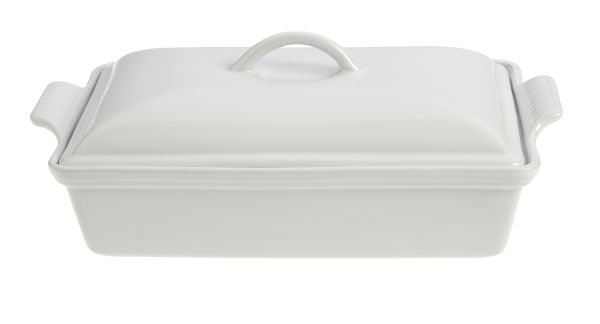 With its secure lid, the Heritage stoneware covered casserole is a convenient choice for transporting dishes to parties, potlucks and picnics. Not only does the stoneware lid provide an effective moisture and heat lock for the dish, but it prevents spills and protects contents until they are ready to serve. Adding to the versatility of this classic design, it's also useful as a marinating dish for lengthy cuts of meat before grilling or roasting in the oven.
Features:
Stoneware maintains even temperatures and prevents scorching.
Unmatched thermal resistance -- safe for freezer, microwave, oven, broiler and dishwasher.
Dense stoneware blocks moisture absorption to prevent cracking, crazing and rippling.
Impermeable exterior enamel resists scratches and stains, and is safe for cutting on with knives.
Nearly-nonstick glazed interior easily releases foods for quick cleanup.
Our Price:
$
135.00